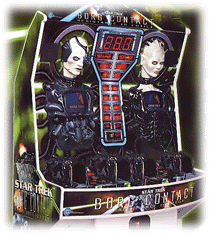 The Coin-Op Cauldron can now provide circuit board repairs for the Nova Productions "Addams Family Generator" and Star Trek "Borg Contact" shocker amusement machines. We can also service these games and other psuedo "electric shock" amusement machines such as Bromley's "Tower of Terror".

Circuit board repairs are specifically focused on the CPU, lamp driver and shock handle controllers. Please call us if you require service for the printer mechanism or printer electronics (where fitted).

There are no flat rate repair charges for these games. Repair charges are based on labor and parts on a per-machine or per-board basis. All repairs are guaranteed for 90 days as per our usual warranty policy. Please contact us for more details at (864) 238-1707 or email us directly at coinopcauldron@charter.net.